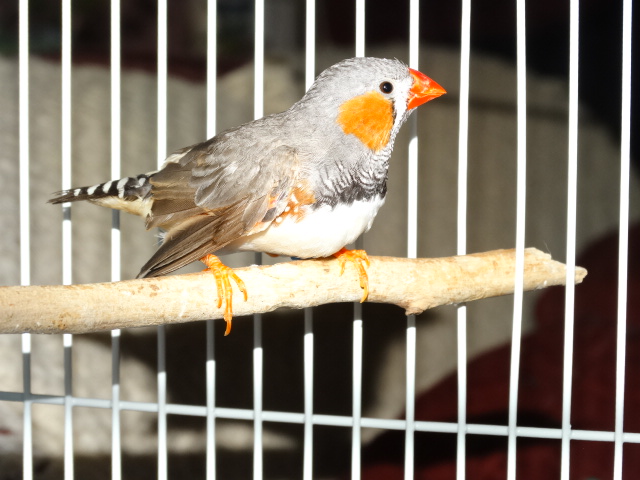 An Unexpected Mascot
Sometimes fate delivers what we didn't even know we needed.
by Amy Barnes
The text message said that a friend had a little zebra finch who couldn't fly and he needed a home where he could be given the attention he needed. A recent visit to the vet had revealed that a tumor on one of his wings was keeping him from flying.
The treatment options were a risky and sad surgery to remove the little bird's wing or to simply let him live out his days since he didn't seem to be in pain.
Either option meant he would have to be housed alone so he wouldn't be picked on by other birds, and he would need special care with no perches and everything on the bottom of the cage so he could eat and drink.
This is where the text message to me came in.
That was my introduction to Rico, just as Joy Magazine was beginning to take flight, I brought home a flightless bird. The irony did not escape me.
As I set him up in his new home, I told the kids that despite what had been said, I believe in miracles and possibilities and so I was giving him perches at various heights in case he decided he wanted to fly.
Just as I was saying, "You know, I wouldn't be surprised if he started flying all over the place in a couple of hours since everything seems to heal here," Rico started flying.
He and I eyed each other as he sat, full of sass and confidence, on a wooden perch and started chirping. As he touted his accomplishment, it was obvious he had to be Joy Magazine's mascot.
One little bird who had been told he couldn't fly and when he was given the chance proved everyone wrong seemed the perfect choice for a mascot.
We soon learned that Rico's last name was Houdini as he figured out how to repeatedly escape his cage without opening a cage door. He then showed he knew how to run like a roadrunner under the 12-foot long dining room table and play hide-and-seek among the heavy wooden pedestal table legs and the legs of the chairs. We had to laugh when he was happily chirping at us when we couldn't find him. Cheeky little upstart proved how much he deserved to be Joy Magazine's mascot!
Once he was set up in a more secure cage, he made it clear he preferred being in the living room with the larger birds and the TV rather than in the same room as the other finches.
So there Rico is, a very cheeky little bird who was told he couldn't fly now flying with great skill and verbally taking on the older, larger birds every day. The perfect mascot for a magazine that also defies the odds.
Update: Sadly, our beloved Rico passed away on February 18, 2021. He had defied the odds and lived almost five years. He will be deeply missed, but his spunky spirit and his determination to prove wrong those who said he could not fly will be gratefully remembered. Now he flies with different wings.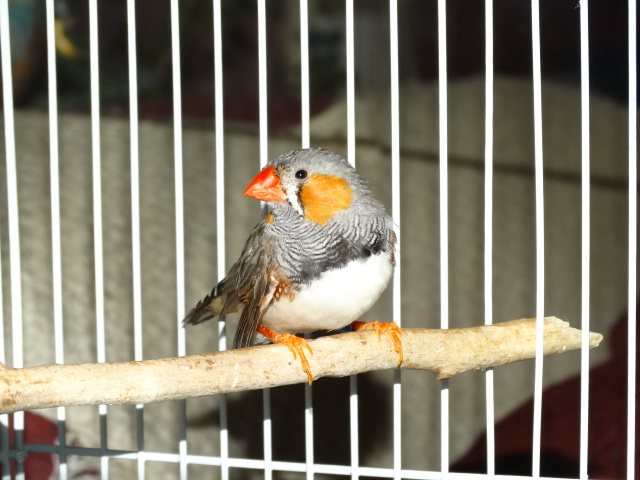 Rico
It was almost impossible to get him to sit still for photos!