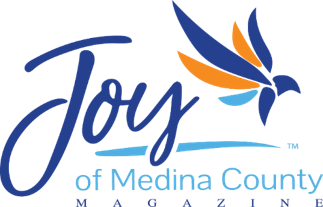 JoyofMedinaCountyMagazine.com
Contact Amy Barnes at:
330-461-0589 Joy@BlakeHousePublishing
Testimonials
Keep truth in journalism alive! That is why your magazine is a joy to read. --Kimberly Oliver
Beautiful first class magazine. sign up to get it in your in box every month. As good as the magazine is it comes in 2nd to Amy Barnes, Editor. – Bob Anthony
What an excellent Magazine that highlights the beauty throughout Medina County. The stories are heartfelt, and informative. I love being able to read and learn about businesses & the people that are making a difference. I enjoy reading it each time an issue comes out. –Theresa Forlini-Petrey
Thank you for publishing Joy of Medina County Magazine. Reading allows the person to immerse themselves into the article. The "Oh, Snap!" story in the June (2020) edition, along with providing links to the audio, really transported the reader into a quiet backyard listening to the birds and squirrels. To be able to get this feeling of calm is especially important today, with all the anxiety and tension present in our daily lives. Thanks again for sharing this with us. -- Rob Ziemkiewicz
I do enjoy Joy, it helps bring Medina to life by showing the real people. I didn't know about the mobile option and will give it a try. – William Kendall, Costin + Kendall, CPAs, 36591 Center Ridge Road, Suite 105, North Ridgeville, Oh. 44039, 440-327-0720
I am humbled, thankful, and impressed (WAY impressed) with the wide spectrum of Amy Barnes' talent! Enjoy this magazine, all -- and not only because it features our beloved Huntington House project, but because it is WORTHY of your time and attention. This is seriously one of the best magazines I have read in so long. It's beautifully written, fun and comprehensive. When I have an advertising budget, you'd better BELIEVE I'm buying my ad space. Shout out for Joy! – Suzanne Sharpe
Thank you for all you do. My son and I are new to the area and signed up for the magazine after visiting your table one weekend during a farmers market at the square in Medina. I genuinely appreciate you and your team's efforts in producing quality, local and trustworthy content for our area. – Nestor Espana
I am thoroughly enjoying Joy of Medina County. I look forward to receiving the next publication and appreciate the variety of stories included in each edition. -- Joy May
Amy Barnes and the entire Joy of Medina County Magazine team work tirelessly to introduce their readers to true journalism and thoughtful stories in their online and print publication.
As an added benefit, they also introduce reputable local companies that will benefit the lives of their readers...and in the case of Landry Family Dentistry, brighten their healthy smile!
With the "Joy" team promoting and welcoming individuals of all ages to experience the Landry Family Dentistry difference, we have continued to grow our practice in order to help more people achieve dental health, comfort, and confidence.
As an innovative networker, Amy Barnes makes it her personal mission to create and foster a network of individual connections and is skilled at connecting her network to one another to form mutually beneficial relationships.
Our team appreciates her efforts and confidence in us, and are "Joyful" Medina County has a quality publication with an eco-friendly e-edition and classic print options for residents to enjoy. – Dr. Joe Landry, Master of the Academy of General Dentistry, Landry Family Dentistry, 5076 Park Avenue West, Seville
_____________________________________________________________________________________
A great publication for a Medinanite. – Barb Horkey
Each of us at Brass Band Of The Western Reserve was delighted to see the article about the band in the May (2019) edition of Joy Of Medina County Magazine.
BBWR has established a firm footprint in Medina in recent years and this article only goes to further emphasize what we have done.
The article about BBWR has created lots of welcome interest around the area. We look forward to readers taking further advantage of the music we have to offer. -- Dr Keith M Wilkinson, former music director, Brass Band Of the Western Reserve
A magazine unlike any other! Joy of Medina County Magazine is truly a joy to read. From all the inspiring stories to the great calendar of events, it is evident that Amy Barnes pours her heart and soul into each page. Well done! -- Liz Bailey
Finally....the magazine so many have been asking and looking for. I've heard so many people complain about the empty and advertorial filled magazines circulating that it will be a bit of fresh air to actually read what Amy is publishing--in fact, it will be a 'Joy!" -- Bob Arnold
Amy was a blessing to me when she was my Sales Account Executive at her previous job. Extremely professional, personable, and kindhearted. Joy of Medina County is an awesome idea! I wish her all the best and cannot think of anyone who is more deserving of this wonderful accomplishment. -- Sonya Callahan
I absolutely love reading this local magazine! What a wonderful thing Amy is doing and even letting me be a part of. Great job, Amy! -- Danielle Litton