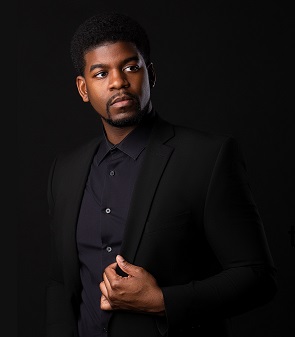 Kariem Farrakhan II
"In the Studio"
Kariem Farrakhan II has considered himself an artist for his entire life. He started as a child by drawing superheroes and doodling in class, where getting sketchbooks confiscated by teachers was a weekly occurrence. He continued to learn and grow as an artist and now paints portraits and expressive pieces as an adult.
Growing up in Akron, Ohio, Kariem graduated from Firestone Community Learning Center, a school that focused on cultivating the visual and performing arts. Kariem was accepted into Savannah College of Art & Design to major in animation and sequential art. Although it was a very impactful experience, personal hardships forced him to return to Akron after only one semester at SCAD.
At that point, a self-proclaimed art school dropout, Kariem began intensely studying oil painting under the tutelage of Akron artist Jack Cascioli. Kariem learned everything he knows today about traditional oil painting techniques in his two-year apprenticeship with Jack. Considering this the art school he was meant to have, Kariem continues to stretch the boundaries of what he learned.
Today, Kariem reintroduces people to their creativity as the art director for the art events company The Spirited Palette and exercises his personal creative freedom through his solo platform, The Indigo Kid.
He can be reached at kariem@thespiritedpalette.com or by calling 330-329-3930.