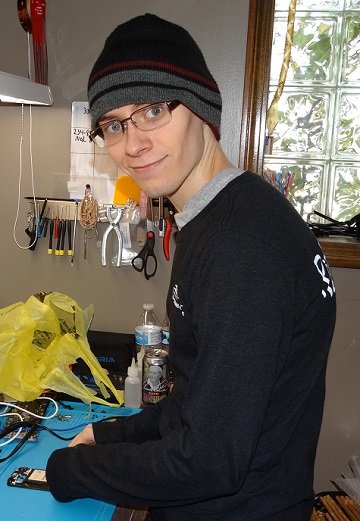 Austin Steger
"From a Technical Mind"
Austin Steger has been doing technology repair since mid-2012. He started in television and computer repair work when he was 17, adding phones when they began becoming popular in 2014.
He learned a lot of what he knows from his father, who was a technician, as well, and currently builds circuits for large telecommunications companies.
He graduated from Akron's East Community Learning Center and went on to study biochemistry at the University of Mount Union. While in college, Austin worked for the information technology help desk, assisting students and staff with computer-related issues on campus.
Currently a Wooster resident, Austin enjoys PC games, astronomy, playing with his cats, keeping up on tech trends, and watching reviews about new devices.
Austin's favorite thing to do is to fix a complicated issue that requires a lot of intellect and problem-solving skills.
Contact Austin by e-mailing him at repairs.riztech@gmail.com or by calling 330-952-1225.